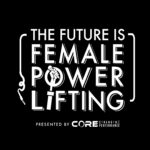 Join 60kg powerlifting Gym Owner Heidi Dehnel and her influential guests for an intimate, off the cuff conversations about training, family, business and owning who you are.
The Future Is Female Powerlifting podcast shares heartfelt, hilarious stories of successful women across the world. Asking how they made it, the challenges and opportunities they faced along the way, the lessons they've learned, the insights they've gained and what advice would they would give a woman looking to succeed in powerlifting.
New episode every 1st and 3rd Thursday of the month.
This episode is brought to you by Core Strength & Performance. Core's community is built on the journey. We understand that it takes more than a few days to reach your goals of building stronger relationships, stronger bodies, and stronger minds. We want you to be comfortable that you have selected the perfect place to achieve your performance goals and our confidence to help get you there. Visit www.Core256.com for more information.
If you have any questions, use the hashtag #FutureIsFemalePowerlifting and shoot them my way on Instagram or email [email protected]
Thank you for tuning in subscribing. I appreciate every one of you that takes the time to listen.
Listen on Google Play here
iTunes coming soon!