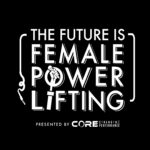 She's sweet as bourbon but that's not all Kentucky native Shana Miller is known for. In 5 years, she's tackled 13 meets in 4 weight classes, claimed an All Time World Record at 97lbs AND went on to build a phenomenal physique for bodybuilding. Her best lifts in the 123 weight class (where she weighed 120.7) was 425 squat (4th Attempt ATWR in wraps), 225 bench and 375 deadlift totaling 1,020 bringing her WILKS to 543. Impressive is an understatement.
Shana candidly opens up about dark times in her life battling eating disorders and body image. You'll learn how negative comments about her physique lead her to where she's at now, loving her strength and the body that was built through powerlifting. Shana also touches on how she still deals with negative comments through social media and her neutral "zen" way of handling them. With the support of a tight knit family, an Iron Mafia family to be exact, they continue to grow the sport of powerlifting in the state of Kentucky and many of the surrounding areas through exciting, unforgettable meets.
In this episode Shana and I discuss controversial topics such as breast augmentation and training. Listen as we go over:
Her husbands recent injury and his road to recovery

Her history with Powerlifting, Iron Mafia & Four Brothers gym

Training with whatever you got

Powerlifting meets she and Iron Mafia hold

Women vs men at the gym

Dark times with bulimia and body image

Breast augmentation & training

Bodybuilding prep and powerlifting

Negative comments about being "a man"

What's in store for the future
Featured Guest/People Mentioned:
If you enjoy the show, please take a few minutes to Rate & Review us on iTunes. Your reviews help the podcast grow!
This episode is brought to you by Core Strength & Performance. Core's community is built on the journey. We understand that it takes more than a few days to reach your goals of building stronger relationships, stronger bodies, and stronger minds. Free Open Gym offered every Saturday from 9-11am for Powerlifting & Strength Sports. Visit www.Core256.com for more information or find us on Instagram at @CoreSandP nad Facebook @CoreSandP
If you have any questions, use the hashtag #TheFutureIsFemalePowerlifting and shoot them my way on Instagram or email [email protected]
Thank you for tuning in and subscribing. I appreciate every one of you that takes the time to listen.