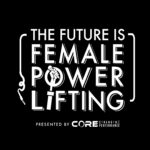 The 63kg weight class at the 2018 USAPL Raw Nationals is arguably one of the toughest division there is. With ferociously strong women like Jen Millican and Jen Thompson, Sam Calhoun knew she had some of the toughest competition she would ever face. Yet, she did not waver.
Sam shares her arduous journey from the "organized chaos training" to her momentous win over the 10x reigning champ, Jen Thompson. She opens up about a career changing back injury and shares secrets with the audience she has NEVER revealed to the public. Sam has an amazing outlook on being mentally tough and discusses her latest article "Don't Be Weak" by walking us through her personal encounters with "weakness". Sam's story telling had me on the edge of my seat and I often thought the tale was leading me one way, only to find it took me for a shocking spin.
In this episode Sam and I discuss her humble beginnings at Planet Fitness as well as what to do when training gets painfully hard. Listen as we go over:
Running track at Nickel State

How she began powerlifting after Planet Fitness
Being "rough around the edges"
Olympic lifting carryover
Back injury: "Everyone has a plan 'till they get punched in the mouth"- Mike Tyson
SURPRISE! Video she never shared with anyone
Arnold Grand Prix
Featured Guest/People Mentioned:
If you enjoy the show, please take a few minutes to Rate & Review us on iTunes. Your reviews help the podcast grow!
This episode is brought to you by Core Strength & Performance. Core's community is built on the journey. We understand that it takes more than a few days to reach your goals of building stronger relationships, stronger bodies, and stronger minds. Free Open Gym offered every Saturday from 9-11am for Powerlifting & Strength Sports. Visit www.Core256.com for more information or find us on Instagram at @CoreSandP and Facebook @CoreSandP
If you have any questions, use the hashtag #TheFutureIsFemalePowerlifting and shoot them my way on Instagram or email [email protected]
Thank you for tuning in and subscribing. I appreciate every one of you that takes the time to listen.