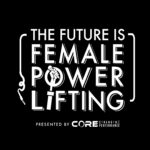 Self-proclaimed gamer and all-around strong ass lifter, CEO of Sisters of Powerlifting Sherine Marcelle is an unstoppable woman. At a time when most would meekly crumble in despair, Sherine lifted herself up and gave adversity the bird.
Make no mistake, Sherine shares her difficulty struggling with self-image and confidence. However, like many of us who have struggled the same, time and friendship can heal the soul. She opens up about a deeply difficult time balancing a challenging breakup while unexpectedly losing her job, and how that experience was a pivotal moment that elevated Sisters of Powerlifting. Listen as she talks about how a close group of friends has helped her feel more confident and live more freely.
In this episode Sherine and I talk about how she started powerlifting and how taking a leap of faith ultimately was the right choice. Listen as we go over:
Melanin Powerlifting

Sisters of Powerlifting Donation section
Pros & Cons of weight based sports
Chocolate Bar Podcast & Black Girl Pilates
Being socially awkward
"Finding myself" moment
IMVU gaming
Tinder for Powerlifters??
"Utilize your career to fund your dream"- Mom
Featured Guest/People Mentioned:
If you enjoy the show, please take a few minutes to Rate & Review us on iTunes. Your reviews help the podcast grow!
This episode is brought to you by Core Strength & Performance. Core's community is built on the journey. We understand that it takes more than a few days to reach your goals of building stronger relationships, stronger bodies, and stronger minds. Free Open Gym offered every Saturday from 9-11am for Powerlifting & Strength Sports. Visit www.Core256.com for more information or find us on Instagram at @CoreSandP and Facebook @CoreSandP
If you have any questions, use the hashtag #TheFutureIsFemalePowerlifting and shoot them my way on Instagram or email [email protected]
Thank you for tuning in and subscribing. I appreciate every one of you that takes the time to listen.