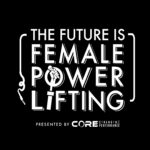 I don't think there is a female powerlifter out there that hasn't heard of "Girls Who Powerlift". From the infamous Peach Gang shorts to their striking "Defiant" t-shirts, Ivy Knight has carved her way into the female community and apparel world of powerlifting. Ivy and GWP are more than just a brand, they are a small community of powerlifting trailblazers.
Like so many of us, Ivy was a woman who found powerlifting on accident, but that discovery soon became a passion. With a push from her husband who had the vision of what GWP could become, Ivy slowly grew the page into a legitimate business that would very quickly, take over their lives. Business was booming and many days finished burning the midnight oil. Finding herself at a crossroads, what does one do when the "real job" gets in the way of your "hobby"? I bet not what you think. Ivy surprises us with a story that she has NEVER shared with the public. She recounts how that pivotal moment in her life led her to where she is at now, succeeding. #DivineIntervention
In this episode Ivy and I talk about her Strong Girls Club and what that community means to her. Listen as we go over:
RUM meet and how it all began
Deciding to stay in her job or leave her job? Or something else??
Strong Girls Club
Iron Knight Gym
GWP app
Persevering
Fail to Succeed
Featured Guest/People Mentioned:
If you enjoy the show, please take a few minutes to Rate & Review us on iTunes. Your reviews help the podcast grow!
This episode is brought to you by Core Strength & Performance. Core's community is built on the journey. We understand that it takes more than a few days to reach your goals of building stronger relationships, stronger bodies, and stronger minds. Free Open Gym offered every Saturday from 9-11am for Powerlifting & Strength Sports. Visit www.Core256.com for more information or find us on Instagram at @CoreSandP and Facebook @CoreSandP
If you have any questions, use the hashtag #TheFutureIsFemalePowerlifting and shoot them my way on Instagram or email [email protected]
Thank you for tuning in and subscribing. I appreciate every one of you that takes the time to listen.