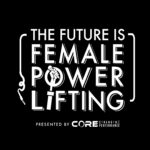 A strong beautiful woman is easy to come by, but one who is welcoming, genuine and doesn't mind dropping an f-bomb when it's needed, is a rarity. Florida's Strongest Woman, the vivacious Ashley Deal has an infectious personality and a heart of gold. She is fiercely taking on the mission to be a resource for women who are looking to connect and learn more about strongwoman who don't know where to turn.
Like many other women starting at the gym, Ashley was searching for a way to "be more fit". In time she realized her potential in strength and was introduced to powerlifting which in turn became a powerlifting meet. She quickly realized how she was not only good at it, but LOVED it. This opened the door to strongman training which she has never turned back from. A 20 day commitment to going to the gym turned into a 5 year love of her body and how it performs. Strongman training gave her more than strength, it gave her the confidence & happiness she was searching for. Now she wants to share that with everywoman in the world.
In this episode Ashley and I talk about her group Shield Maiden Squad and what that community means to her. Listen as we go over:
Mammoth Contusion from Nationals
How her training is leading into a meet
20 Days commitment turned into 5 Years
Loving the body and what it can do
Shield Maiden Squad
What she hopes for the community of strong women
Tough Mindset
Featured Guest/People Mentioned:
If you enjoy the show, please take a few minutes to Rate & Review us on iTunes. Your reviews help the podcast grow!
This episode is brought to you by Core Strength & Performance. Core's community is built on the journey. We understand that it takes more than a few days to reach your goals of building stronger relationships, stronger bodies, and stronger minds. Free Open Gym offered every Saturday from 9-11am for Powerlifting & Strength Sports. Visit www.Core256.com for more information or find us on Instagram at @CoreSandP and Facebook @CoreSandP
If you have any questions, use the hashtag #TheFutureIsFemalePowerlifting and shoot them my way on Instagram or email [email protected]
Thank you for tuning in and subscribing. I appreciate every one of you that takes the time to listen.