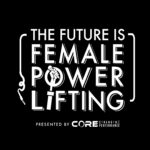 Being able to take a obstacle head on can sometimes not only feel daunting, but scary. Learning something new, that you will probably will suck in, can be exhausting, frustrating and can lead you to question your own capabilities. But those moments of struggle is where we grow, and Yessica Martinez has turned every challenge into an opportunity to get better, stronger and tougher.
Yessica and I discuss her history with powerlifting and how it led her to Elite FTS as well as kicking ass as a strongman competitor. She has had many twists and turns her life that have gave her the opportunity to look at each path as an area for growth. Through being strong but not yet seasoned, to being experienced yet still feeling like she has not learned enough, Yessie has developed a growth vision for reflection. This, and an open mind for learning, has helped her be where she's at right now, succeeding and making an impact.
In this episode, Yessica and I talk about her transition from raw to geared lifting and the difficulties of changing her squat that took 6 months to grove. Listen as we go over:
Life before powerlifting
Idol Makers gym and where it started
Joining Elite FTS
"Your Experience, Your Power"
It takes more guts to say I don't know
Focus less of the fluff
Raw to geared powerlifting
Bucket List
Strong people are just people too
Featured Guest/People Mentioned:
If you enjoy the show, please take a few minutes to Rate & Review us on iTunes. Your reviews help the podcast grow!
This episode is brought to you by Core Strength & Performance. Core's community is built on the journey. We understand that it takes more than a few days to reach your goals of building stronger relationships, stronger bodies, and stronger minds. Free Open Gym offered every Saturday from 9-11am for Powerlifting & Strength Sports. Visit www.Core256.com for more information or find us on Instagram at @CoreSandP and Facebook @CoreSandP
If you have any questions, use the hashtag #TheFutureIsFemalePowerlifting and shoot them my way on Instagram or email [email protected]
Thank you for tuning in and subscribing. I appreciate every one of you that takes the time to listen.