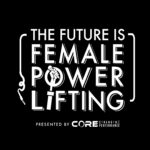 In a time when the sport of female powerlifting is flooded by the 35 & under, Ellen Stein is an unstoppable force to be reckoned with at the age of 65. She not only dominates her weight class for her age, but gives every 6okg lifter a damn run for their money (me included!). She is feisty, full of life and is not slowing down any time soon. With a 992 total and a 506 wilks, Ellen inspires us all to train smart and keep pushing forward.
As a special treat, we had the pleasure of having Ellen's coach, 2016 Powerlifting Coach of the Year and creator of 5th Set Methodology, Swede Burns. These two grumbled and poked fun at each other like an old married couple yet gave so much insight into the lesser talked about dark side of powerlifting.
We're talking about men, who prey on woman looking for a coaching, only to find these "coaches" are just pervs asking to send nudes. And that, is just the least of it. Raw, honest and sadly true, Swede breaks down his own experiences with women who have been taken advantage of in the industry. Listen up and buyers beware when searching for your next coach.
In this episode, Ellen & Swede break down 5th set methodology and how she has progressed every meet using it. Listen as we go over:
Her prototype for the flip phone
Her 15 years of running experience
5th Methodology and how it works for everyone
Simplifying your programming
Predators and preys amongst male coaches
Sending nudes?
Choosing a coach
Clues about Ghosts
Featured Guest/People Mentioned:
If you enjoy the show, please take a few minutes to Rate & Review us on iTunes. Your reviews help the podcast grow!
This episode is brought to you by Core Strength & Performance. Core's community is built on the journey. We understand that it takes more than a few days to reach your goals of building stronger relationships, stronger bodies, and stronger minds. Free Open Gym offered every Saturday from 9-11am for Powerlifting & Strength Sports. Visit www.Core256.com for more information or find us on Instagram at @CoreSandP and Facebook @CoreSandP
If you have any questions, use the hashtag #TheFutureIsFemalePowerlifting and shoot them my way on Instagram or email [email protected]
Thank you for tuning in and subscribing. I appreciate every one of you that takes the time to listen.