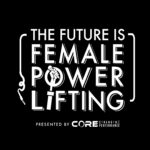 Our Q & A is back with coach Christine Myers! Listen as we discuss questions that were asked on our Instagram & Facebook "Golden Mic" Post!
In this episode, Christina and I talk about how to balance nutrition in your offseason. Listen as we go over:
How should one handle body composition insecurities in powerlifting? Knowing that performance can be best in a weight class where you may not be happiest with how you look, what are some mental approaches to dealing with that- @matt.w.stinson
Period weight gain right before weigh-ins-@highhamstringz
Cutting weight, what sort of mindset should we have (afraid of losing strength)_-@sloansabroad
Nutrition program for people who are on shift work and just want a basic quick meal prep- @prossypants
Struggle with protein intake. Options or ideas to make it easier besides shakes: @jacastle8
Based on DNA genetic testing, my body best performers as endurance (80%) versus power (20%) but I love to power lift. How would you approach a client for muscle growth and powerlifting strength with this factor? @Courtneyforlife
Best things to focus on when not in a prep and gaining muscle mass? Nutrition and training?- @syd.ney.ann
Motivated and good with nutrition during meet prep however with no meet I have too many treats. How do I balance?-reshape with ape
Tips for removing slack before starting a deadlift with long limbs-@lankylifter
Best hand/grip position for squatting with wrist issues? Also maybe some general info on wrist health- @taste0fink
How many times a week do you train? Is your nutrition different when you're on your period? Do you do anything diff regarding training or habits when on your period?@fit_lil_pepp  
Protein, collagen, vitamins, BCAA, how do I start and how do I know what I need? @christen2484
Featured Guest/People Mentioned:
If you enjoy the show, please take a few minutes to Rate & Review us on iTunes. Your reviews help the podcast grow!
Want to support the show? Pick some apparel here! Snap a pic and tag us in it, we'll feature you on our social media channels!
This episode is brought to you by Core Strength & Performance. Core's community is built on the journey. We understand that it takes more than a few days to reach your goals of building stronger relationships, stronger bodies, and stronger minds. Visit www.Core256.com for Online or In-Person Training, or find us on Instagram at @CoreSandP @futureisfemalepowerlifting and Facebook @CoreSandP.