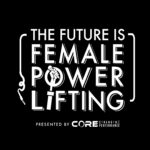 We're having our first Q&A with Elite FTS Coach, Julia Anto! Listen as we discuss questions that were asked on our Instagram & Facebook!
In this episode, Julia and I talk about some programming thats near and dear to her, Conjugate. Listen as we go over:
Female Triad
Dynamic Effort, Max Effort & Repetition Method
Mindset transitioning from Bodybuilding to Powerlifting
Top 4 Federations
How to calm pre-comp nerves
Visualization for success
Featured Guest/People Mentioned:
If you enjoy the show, please take a few minutes to Rate & Review us on iTunes. Your reviews help the podcast grow!
This episode is brought to you by Core Strength & Performance. Core's community is built on the journey. We understand that it takes more than a few days to reach your goals of building stronger relationships, stronger bodies, and stronger minds. Free Open Gym offered every Saturday from 9-11am for Powerlifting & Strength Sports. Visit www.Core256.com for more information or find us on Instagram at @CoreSandP and Facebook @CoreSandP
If you have any questions, use the hashtag #TheFutureIsFemalePowerlifting and shoot them my way on Instagram or email [email protected]
Thank you for tuning in and subscribing. I appreciate every one of you that takes the time to listen.