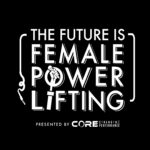 "I'll NEVER be a Super Heavy Weight". Words Randi Lee has repeated to herself many times. As women in strength sports, many of us look to make a lighter weight class not only to have a better wilks score, but secretly to not be associated with a heavier bodyweight. When Randi let go of the idea of fitting a certain weight class, her TRUE strength began to flourish. With over a 600lbs squat and her name in the Hall Of Fame, you can say owning who she is has worked out pretty great for her. And now, her life's purpose is helping other women do the same.
In this episode, Randi and I talk about the bumpy road that lead her to own self discovery and worth. Listen as we go over:
Accepting being a Super Heavy Weight
Toxic relationship
Her prep for the The Kern US Open
Mindset and Purpose
Lessons from my mother
Becoming a mindset coach for women
Leaning into discomfort
What impact will you leave in your community?
Featured Guest/People Mentioned:
If you enjoy the show, please take a few minutes to Rate & Review us on iTunes. Your reviews help the podcast grow!
This episode is brought to you by Core Strength & Performance. Core's community is built on the journey. We understand that it takes more than a few days to reach your goals of building stronger relationships, stronger bodies, and stronger minds. Free Open Gym offered every Saturday from 9-11am for Powerlifting & Strength Sports. Visit www.Core256.com for more information or find us on Instagram at @CoreSandP and Facebook @CoreSandP
If you have any questions, use the hashtag #TheFutureIsFemalePowerlifting and shoot them my way on Instagram or email [email protected]
Thank you for tuning in and subscribing. I appreciate every one of you that takes the time to listen.