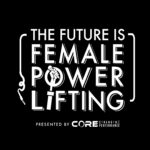 We're having our second Q&A with Amanda "Haparican" Kohatsu and BONUS guests Kristy "Krispy_Kremez" Senay & Ciarra "Ciarralifts" Hutton! Listen as we discuss questions that were asked on our Instagram & Facebook as well as go over Amanda's personal struggles she is dealing with at the moment. Check our Youtube for the 1st recording of this episode!
In this episode, the ladies I answer questions ranging from mindset to lifting cues. Listen as we go over:
Mindset and does it impact performance
Favorite cues for each of the lifts
What we wish we knew about training when we started
Powerlifting advice that has helped along the way
Favorite Puerto Rican Food
Amanda's personal struggles and what she wants others to know about it
Featured Guest/People Mentioned:
If you enjoy the show, please take a few minutes to Rate & Review us on iTunes. Your reviews help the podcast grow!
This episode is brought to you by Core Strength & Performance. Core's community is built on the journey. We understand that it takes more than a few days to reach your goals of building stronger relationships, stronger bodies, and stronger minds. Free Open Gym offered every Saturday from 9-11am for Powerlifting & Strength Sports. Visit www.Core256.com for more information or find us on Instagram at @CoreSandP @futureisfemalepowerlifting and Facebook @CoreSandP
If you have any questions, use the hashtag #TheFutureIsFemalePowerlifting and shoot them my way on Instagram or email [email protected]
Thank you for tuning in and subscribing. I appreciate every one of you that takes the time to listen.