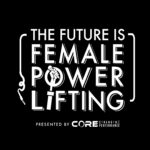 Ana Perez is no stranger to struggle. Born into addiction, Ana was sold at just 2 weeks old by her birth mother for drugs. As a young teen, she was faced with life changing experiences that made turning to drugs an easy decision. Addicted and struggling to stay clean, Ana found herself at a crossroads with nothing to her name, and nothing to live for. Or so she thought…
Ana's story is one of perseverance and overcoming adversity. She does not feel bad for herself, nor does she play the victim. Clean, happy and full of life, Ana has climbed her way up the tech field and is the graphic designer for some of the biggest female powerlifters in the game. She attributes much of her growth to powerlifting and how it helped strip away anxiety and self doubt, replacing it with a community of people helping people.
In this episode, Ana shares her powerful story that has shaped her to the woman she is today. Listen as we go over:
Cafe Con Leche
Putting one foot in front of the other
Yoga for bad asses
Working with Bama, CC and Haparican
Being involved with the PL community beyond competing
Puerto Rican Food
Not settling with the cards that you are dealt
Featured Guest/People Mentioned:
If you enjoy the show, please take a few minutes to Rate & Review us on iTunes. Your reviews help the podcast grow!
This episode is brought to you by Core Strength & Performance. Core's community is built on the journey. We understand that it takes more than a few days to reach your goals of building stronger relationships, stronger bodies, and stronger minds. Free Open Gym offered every Saturday from 9-11am for Powerlifting & Strength Sports. Visit www.Core256.com for more information or find us on Instagram at @CoreSandP @futureisfemalepowerlifting and Facebook @CoreSandP
If you have any questions, use the hashtag #TheFutureIsFemalePowerlifting and shoot them my way on Instagram or email [email protected]
Thank you for tuning in and subscribing. I appreciate every one of you that takes the time to listen.