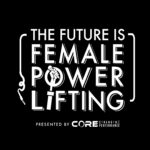 Training to be the IPF World Champ does not come easy. That title is carved with endless hours in the gym and a discipline to training that goes beyond the norm. And though she is the ONLY IPF Powerlfiter to deadlift quadruple her bodyweight, Heather Conners growth has come more from within, than from on the bar.
Bright, witty and quick to make you laugh, Heather gives us a backstage pass on what it's like being an elite powerlifter. Sharing hilarious drinking stories with powerlifters from around, she and I more seriously dive deep into her own health struggles with Chrons disease as well as living with anxiety & depression.
In this episode, Heather and I talk about books that have helped her growth, such as "Girl Wash Your Face". Listen as we go over:
Our husbands being so alike
"Everything Is Trash, but that's ok"
How she realized she developed Chrons Disease
Silencing her mind through training
Featured Guest/People Mentioned:
If you enjoy the show, please take a few minutes to Rate & Review us on iTunes. Your reviews help the podcast grow!
This episode is brought to you by Core Strength & Performance. Core's community is built on the journey. We understand that it takes more than a few days to reach your goals of building stronger relationships, stronger bodies, and stronger minds. Free Open Gym offered every Saturday from 9-11am for Powerlifting & Strength Sports. Visit www.Core256.com for more information or find us on Instagram at @CoreSandP @futureisfemalepowerlifting and Facebook @CoreSandP
If you have any questions, use the hashtag #TheFutureIsFemalePowerlifting and shoot them my way on Instagram or email [email protected]
Thank you for tuning in and subscribing. I appreciate every one of you that takes the time to listen.