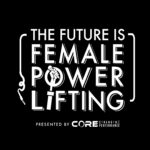 Being the first woman to ever total 11x her bodyweight, you can say Laura Phelps is pretty damn strong. Her numerous world records still hold true even after several years of retirement. Laura is still ranked #2 All-Time Best lifter in multi-ply (men & women) right behind the legendary Dave Hoff with an astonishing 776 wilks.
However Laura is more than just a phenomenal powerlifter, she is a woman driven to grow the sport. With the help from the loyal people surrounding her, Laura and the rest of the dedicated crew put on one the largest Women's Only Powerlifting meet in the United States. The APF Cincinnati Women's Pro/Am is revered for its magnetic atmosphere and outstanding performances from some of the strongest women in the game.
In this episode, Laura and I discuss how Crossfit Conjugate began and how she and Westside Barbell got involved. Listen as we go over:
Her early days as a bodybuilder learning powerlifting
Talking her way into competing….then breaking the World Record
Better fitness can make powerlifters stronger
Crossfit Conjugate
Training at Westside
Being a small business owner
Featured Guest/People Mentioned:
If you enjoy the show, please take a few minutes to Rate & Review us on iTunes. Your reviews help the podcast grow!
This episode is brought to you by Core Strength & Performance. Core's community is built on the journey. We understand that it takes more than a few days to reach your goals of building stronger relationships, stronger bodies, and stronger minds. Free Open Gym offered every Saturday from 9-11am for Powerlifting & Strength Sports. Visit www.Core256.com for more information or find us on Instagram at @CoreSandP @futureisfemalepowerlifting and Facebook @CoreSandP
If you have any questions, use the hashtag #TheFutureIsFemalePowerlifting and shoot them my way on Instagram or email [email protected]
Thank you for tuning in and subscribing. I appreciate every one of you that takes the time to listen.