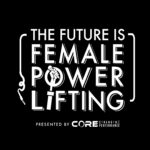 Though not born with the last name, Cryssa undoubtedly embodies the traits of a Dragon. Strong, ambitious and not one to back down from a challenge, she takes on life's maneuvers head-on and focuses her mind on the finish line.
Currently transitioning from EMT into firefighter/paramedic, Cryssa Dragon has learned to style step her powerlifting training to match the demands of the academy. Though training to have 1158 single-ply total was important at one point in time, Cryssa also knew training for her career & lifestyle would need to take precedence. A jack of all trades, you can now find Cryssa snatching some weight in her home gym and kicking some shins with Muay Thai.
In this episode, Cryssa and I talk about how she had a love for dancing and how that love transitioned to powerlifting. Listen as we go over:
Academy transition
Conjugate training
Ego Is My Enemy
Muay Thai
Educated Meathead
Featured Guest/People Mentioned:
If you enjoy the show, please take a few minutes to Rate & Review us on iTunes. Your reviews help the podcast grow!
This episode is brought to you by Core Strength & Performance. Core's community is built on the journey. We understand that it takes more than a few days to reach your goals of building stronger relationships, stronger bodies, and stronger minds. Free Open Gym offered every Saturday from 9-11am for Powerlifting & Strength Sports. Visit www.Core256.com for more information or find us on Instagram at @CoreSandP @futureisfemalepowerlifting and Facebook @CoreSandP
If you have any questions, use the hashtag #TheFutureIsFemalePowerlifting and shoot them my way on Instagram or email [email protected]
Thank you for tuning in and subscribing. I appreciate every one of you that takes the time to listen.