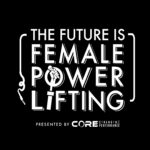 It is not often our small community of powerful women are recognized on a national level, but NBC Titan Games competitor and Elite powerlifter Kelsey Horton made us all proud displaying her strength, poise and quads that could crush a crocodile with just a sneeze.
Ambitious, kind and funny as hell, Kelsey is a mom & nurse by day and powerlifting USPA state Chairman by night. Not only does she train on an Elite level but she is currently working towards her first bodybuilding show….all while planning for a charity meet that is near and dear her heart.
In this interview, Kelsey and discuss how she was discovered for the NBC Titan Games. Listen as we go over:
Krush It For The Kids
Balancing being a mom and training
Weight loss to powerlifting
NBC Titan Games
Dwayne Johnson hug
Ana Perez logo
Featured Guest/People Mentioned:
If you enjoy the show, please take a few minutes to Rate & Review us on iTunes. Your reviews help the podcast grow!
This episode is brought to you by Core Strength & Performance. Core's community is built on the journey. We understand that it takes more than a few days to reach your goals of building stronger relationships, stronger bodies, and stronger minds. Visit www.Core256.com for more information or find us on Instagram at @CoreSandP @futureisfemalepowerlifting and Facebook @CoreSandP
Want to support the show? Pick some apparel here! Snap a pic and tag us in it, we'll feature you on our social media channels!
Thank you for tuning in and subscribing. I appreciate every one of you that takes the time to listen.