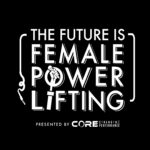 I had the privilege to sit and talk to some of the amazing ladies competing at the Apeman Elite 2019 in San Diego, CA. The weekend was filled with strong, focused lifters and we even witnessed 2 World Records being broken by the NEW #1 female in the 148 weight class, Marianna Gasparyan.
In these exclusive in-person interviews with the women of Apeman Elite, we sit and talk about what got them into powerlifting, how they prepared for this meet and of course, What The Hell Was I Thinking?" .
Here is a breakdown of where you can find your favorite lifters:
Mariannas World Record Squat 0:00
Tristan & Megan 7:02
Chilasa 10:42
Bettie 15:55
Ceejay & Cora 21:16
Mallory 26:03
Christina 33:35
Marianna 42:59
Keke 47:50
Cora M. 51:02
Gracie 54:34
What The Hell Was I Thinking 59:09
BONUS! Bria's Epic Deadlift 1:13:50
Featured Guest/People Mentioned:
If you enjoy the show, please take a few minutes to Rate & Review us on iTunes. Your reviews help the podcast grow!
Want to support the show? Pick some apparel here! Snap a pic and tag us in it, we'll feature you on our social media channels!
This episode is brought to you by Core Strength & Performance. Core's community is built on the journey. We understand that it takes more than a few days to reach your goals of building stronger relationships, stronger bodies, and stronger minds. Visit www.Core256.com for more information or find us on Instagram at @CoreSandP @futureisfemalepowerlifting and Facebook @CoreSandP
Thank you for tuning in and subscribing. I appreciate every one of you that takes the time to listen.