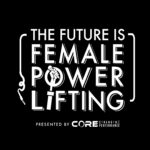 Our Q&A is back with coach Christine Myers! Listen as we discuss questions that were asked on our Instagram & Facebook!
In this episode, Christina and I talk about Supercompenstiaon and how to utilize it properly peaking for a meet. Listen as we go over:
Should we test 1-rep maxes week before meet?
Breathing during lifts, how do we do it?
Recommendations on other feminine products than what is usually offered?
What do you think of the direction of Powerlifting in Alabama?
How do deal with getting sick or setbacks during training?
Does "form follow function" reign true?
Why did we switch from just lifting weights to competing?
Featured Guest/People Mentioned:
If you enjoy the show, please take a few minutes to Rate & Review us on iTunes. Your reviews help the podcast grow!
Want to support the show? Pick some apparel here! Snap a pic and tag us in it, we'll feature you on our social media channels!
This episode is brought to you by Core Strength & Performance. Core's community is built on the journey. We understand that it takes more than a few days to reach your goals of building stronger relationships, stronger bodies, and stronger minds. Visit www.Core256.com for more information or find us on Instagram at @CoreSandP @futureisfemalepowerlifting and Facebook @CoreSandP.
Thank you for tuning in and subscribing. I appreciate every one of you that takes the time to listen.