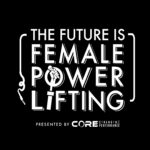 Got questions about your first powerlifting meet? Not sure what to eat or how to calculate your attempts? Listen as I talk about everything you need to know leading up to meet day!
In this episode, I break down various parts of gearing up for your first meet. Listen as I go over:
4:50- What to do weeks leading up into the meet
7:00- Squat Commands
9:04- Bench Commands
11:35- Deadlift Commands
12:57- Common causes for Squat "No-Lifts"
15:45- Common causes for Bench "No-Lifts"
18:15- Common causes for Deadlift "No-Lifts"
22:25- Other mistakes people overlook
25:08- Weigh-Ins/ Check-Ins: What to expect?
33:50- After check-ins
35:00- MEET DAY! How should I approach it?
36:46- Tip: Warming up & meet etiquette
40:59- Tip: How to choose your meet attempts? Do you just go by feel or should you have a number?
Featured Guest/People Mentioned:
Juggernaut Strength Systems article Here
Suero Electrolyte Drink Here
Core Barbell Powerlifting (@coresandp)
If you enjoy the show, please take a few minutes to Rate & Review us on iTunes. Your reviews help the podcast grow!
Want to support the show? Pick some apparel here! Snap a pic and tag us in it, we'll feature you on our social media channels!
This episode is brought to you by Core Strength & Performance. Core's community is built on the journey. We understand that it takes more than a few days to reach your goals of building stronger relationships, stronger bodies, and stronger minds. Visit www.Core256.com/online-powerlifting for more information or find us on Instagram at @CoreSandP @futureisfemalepowerlifting and Facebook @CoreSandP.
Thank you for tuning in and subscribing. I appreciate every one of you that takes the time to listen.