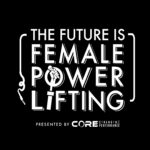 Known as a massive bencher, 132lbs Jen Thompson has been steadily climbing the WILKS ranks for over 20 years. With a record bench of 319.6lbs, Jen also holds a 1,101 total and a whopping 548 WILKS which is just insanely strong. It's no wonder she's an 11x IPF World Champ.
Strong, confident and full of energy, Jen began her journey like many of us, a shy rookie. Though her bench was already off to a great start, Jen recounts how she learned to deadlift just days before her first meet, a meet she almost bombed out of. Not discouraged but rather driven by the excitement, Jen has powered through the years accumulating layers of muscle, strength, and tenacity towards being the best.
In this episode, Jen and I talk about how she got started and how that has changed over the years. Listen as I go over:
Tips to increase your bench
Almost bombing out from her 1st meet
Where it all began
Recovery methods she uses as a master's athlete
Jen's training and how that differs from most
Youth powerlifting. Positives and negatives
Featured Guest/People Mentioned:
If you enjoy the show, please take a few minutes to Rate & Review us on iTunes. Your reviews help the podcast grow!
Want to support the show? Pick some apparel here! Snap a pic and tag us in it, we'll feature you on our social media channels!
This episode is brought to you by Core Strength & Performance. Core's community is built on the journey. We understand that it takes more than a few days to reach your goals of building stronger relationships, stronger bodies, and stronger minds. Visit www.Core256.com/online-powerlifting for more information or find us on Instagram at @CoreSandP @futureisfemalepowerlifting and Facebook @CoreSandP.
Thank you for tuning in and subscribing. I appreciate every one of you that takes the time to listen.