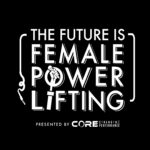 Our Q & A is back with coach Christine Myers! Listen as we discuss questions that were asked on our Instagram & Facebook "Golden Mic" Post!
In this episode, Christina and I talk about what to do when you burnout and some ways to mitigate those feelings. Listen as we go over:
4:41, Best tips on how to make an online coach/athlete relationship work?
14:26, In regards to coaching and training beginners, are there any special considerations based on sex for how to approach programming?
32:48, Programming for a hybrid athlete. How would you go about someone who has multiple competing interests such as powerlifting + weightlifting or Crossfit?
43:20, What is your approach to coaching lifters under the pressure of extreme life stressors?
55:26, What would you consider an ideal timeline for a meet prep?
1:05, What are the best strategies for someone who has reached the "burnout" point- mainly due to stressors other than powerlifting?
Featured Guest/People Mentioned:
If you enjoy the show, please take a few minutes to Rate & Review us on iTunes. Your reviews help the podcast grow!
Want to support the show? Pick some apparel here! Snap a pic and tag us in it, we'll feature you on our social media channels!
This episode is brought to you by Core Strength & Performance. Core's community is built on the journey. We understand that it takes more than a few days to reach your goals of building stronger relationships, stronger bodies, and stronger minds. Visit www.Core256.com for Online or In-Person Training, or find us on Instagram at @CoreSandP @futureisfemalepowerlifting and Facebook @CoreSandP.
Thank you for tuning in and subscribing. I appreciate every one of you that takes the time to listen.