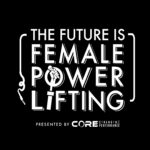 Join Elite FTS Coach Julia Anto and I as we discuss ways we can maximize training away from the gym. How can we take bodyweight or lightweight exercises and intensity them as well as staying motivated during these difficult times.
In this episode, Julia and I dive deep into making bodyweight exercises harder. Listen as we go over:
How to Intensify bodyweight or lightweight exercises: tempo, half or partial reps, adding bands, pulse, full isometric timed holds, Plyometric
How to stay motivated during the Quarantine
Realistic expectations during this year
Stepping outside your comfort zone
BONUS: Things to consider when returning back to the gym.
Featured Guest/People Mentioned:
If you enjoy the show, please take a few minutes to Rate & Review us on iTunes. Your reviews help the podcast grow!
Want to support the show? Pick some apparel here! Snap a pic and tag us in it, we'll feature you on our social media channels!
This episode is brought to you by Core Strength & Performance. Core's community is built on the journey. We understand that it takes more than a few days to reach your goals of building stronger relationships, stronger bodies, and stronger minds. Visit www.Core256.com for Online or In-Person Training, or find us on Instagram at @CoreSandP @futureisfemalepowerlifting and Facebook @CoreSandP.