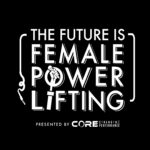 Qwerking, chihuahuas and White Claws. These are probably some of the many things Christy Senay is known for. What is not so known is the tender and vulnerable side of Christy, the side shared with us in this episode.
From powerlifting in the Midwest to transitioning to Strongman and moving to the West Coast, Christy has been one to take a chance at life. Real, down to earth and funny as hell, Christy bravely speaks about some of the most intimate struggles she's dealt with. Through sharing her story, she hopes others can feel they are not alone through their own adversities.
In this episode, Christy and traceback her beginnings as a personal trainer and how that lead her to powerlifting. Listen as we go over:
Arnold "Ghost" Fest 2020
Moving across the nation
Artist background
Managing anxiety
Why she transitioned from powerlifting to strongman
Q & A
Featured Guest/People Mentioned:
If you enjoy the show, please take a few minutes to Rate & Review us on iTunes. Your reviews help the podcast grow!
Want to support the show? Pick some apparel here! Snap a pic and tag us in it, we'll feature you on our social media channels!
This episode is brought to you by Core Strength & Performance. Core's community is built on the journey. We understand that it takes more than a few days to reach your goals of building stronger relationships, stronger bodies, and stronger minds. Visit www.Core256.com for Online or In-Person Training, or find us on Instagram at @CoreSandP @futureisfemalepowerlifting and Facebook @CoreSandP.