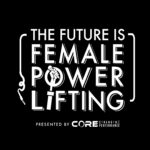 Glancing into @StrongSarah Instagram, you see a happy, badass powerlifter who occasionally trains with her two beautiful children around. There is a wonderful aura around her. But Sarah has built that strength over the years, through some of the worse pain no person should ever have to endure. This is her story, and she shares it with us in hopes it can help other victims of abuse.
A survivor of domestic violence, Sarah now advocates for victims' rights and bringing awareness to the prevalence of domestic violence in our society. Her company, The Stronghold, aims to point DV victims in the right direction to leave and get help.
In this episode, Sarah shares her firsthand experience so that it might help others. Listen as we go over:
Getting into powerlifting
2021/22 Drug Tested Nationals & North Americas
"We Are Her" Survivors support group
'Survivors Best Friend" survivors adoption of support animals
What is Gaslighting, Love Bombing and more
1 in 4 women are DV victims. What does that tell us?
Featured Guest/People Mentioned:
LISTEN HERE on all major podcasts!
If you enjoy the show, please take a few minutes to Rate & Review us on iTunes. Your reviews help the podcast grow!
Want to support the show? Pick some apparel here! Snap a pic and tag us in it, we'll feature you on our social media channels!
This episode is brought to you by Core Strength & Performance. Core's community is built on the journey. We understand that it takes more than a few days to reach your goals of building stronger relationships, stronger bodies, and stronger minds. Visit www.Core256.com for Online or In-Person Training, or find us on Instagram at @CoreSandP @futureisfemalepowerlifting and Facebook @CoreSandP.