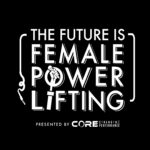 From a 140lbs collegiate track athlete worrying about getting too big, to loving and accepting her body as she gained the weight & strength, Brittainy Chown's mindset has come a long way. And so has her purpose.
Succession planning towards being a colligate track coach, Brittainy's career took a turn when she decided that being an assistant track coach wasn't the right field for her after all. As a well-respected Certified Strength and Conditioning Specialist (CSCS) and a Masters degree under her belt, Brittainy organically transitioned into coaching the sport she was training in, powerlifting. Now, several years later, she is not only coaching women interested in powerlifting but teaching new personal trainers who are just stepping into the field what they need to know to become great trainers.
In this episode, Brittainy and I discuss questions that were posed on her Instagram. Listen as we go over:
Track coach aspirations
Athritis in her ankles from track and how that affected her
Teaching personal trainers
Her physique mindset shift as she transitioned from track athlete to powerlifting
Why she loves what she does
Questions asked:
"How did you feel when you got the Showdown Invite?"- @dtliftsweights
"What are the cues that are on repeat during your squat, bench, and deadlifts?"- @katiequitecontrary
"What kind of legacy or impact do you want to leave in the powerlifting community?"- @the.dreaded.lifter
"Nutrition, staying on routine despite life" – @the.dreaded.lifter
Featured Guest/People Mentioned:
Brittainy Chown @britt_chownstrength
Untamed Strength @untamedstrength
The Showdown Meet @the_showdown_meet
LISTEN HERE on all major podcasts!
If you enjoy the show, please take a few minutes to Rate & Review us on iTunes. Your reviews help the podcast grow!
Want to support the show? Pick some apparel here! Snap a pic and tag us in it, we'll feature you on our social media channels!
This episode is brought to you by Core Strength & Performance. Core's community is built on the journey. We understand that it takes more than a few days to reach your goals of building stronger relationships, stronger bodies, and stronger minds. Visit www.Core256.com for Online or In-Person Training, or find us on Instagram at @CoreSandP @futureisfemalepowerlifting and Facebook @CoreSandP.