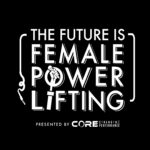 Never really into the gym, Whitney Baxley's husband bought her a membership hoping she would grow to enjoy it. After canceling her membership because of a lack of attendance, Whitney realized she wanted to stick with the training. Urged by her husband Nate, and now coach, Whitney fell in love with the process and soon became hooked after her first local meet. The rest is history.
With the #1 World Record Deadlift of 518lbs at 132lbs, a 1,096 total, and an International Elite total right from the get-go, Whitney seems to be made for powerlifting. Humble, kind, and down-to-earth, Whit talks about how she got started and what's in store for her future. Somehow flying under the radars, I believe Whit will be part of lifters to look out for in 2022.
In this episode, Whitney and I chat about what it's like training with our partners. Listen as we go over:
Why she started powerlifting
What her training cycle like
Exercises she likes for her massive 518 deadlift
Being a Beyond Average athlete
Tips for new lifters
Featured Guest/People Mentioned:
Whitney Baxley @iamwhitbaxley
Nate Baxley @nastynatelifting
Ashley Mike @modaste.fitness
Tamara "Dove" Walcott @plussize_fitqueen4.0
Beyond Average Apparel @beyondaveragetrainingapparel
The Showdown Meet @the_showdown_meet
LISTEN HERE on all major podcasts!
If you enjoy the show, please take a few minutes to Rate & Review us on iTunes. Your reviews help the podcast grow!
Want to support the show? Pick some apparel here! Snap a pic and tag us in it, we'll feature you on our social media channels!
This episode is brought to you by Core Strength & Performance. Core's community is built on the journey. We understand that it takes more than a few days to reach your goals of building stronger relationships, stronger bodies, and stronger minds. Visit www.Core256.com for Online or In-Person Training, or find us on Instagram at @CoreSandP @futureisfemalepowerlifting and Facebook @CoreSandP.