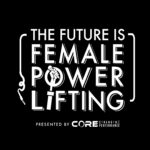 Taking the powerlifting community by storm, the ladies of the Main Event Project are here to make an impact for years to come. Comprised of Elite powerlifters Tara Duncan, Leah Reichman, Allison Hind, and Amber Hansen, MEP is a non-profit organization focusing on empowerment, education, and most importantly, equality for women in sports.
Beginning first with a push towards adding more upper weight classes for women other than the 90kg+/198lbs+, many federations have already added 100kg/220lbs & 110kg242lbs+ since their initiative. This, as we are told, is just the beginning of what they hope to achieve for not only the current lifters but those lifters for years to come.
In this episode, MEP and I discuss what is the goal for the organization. Listen as we go over:
Why add more weight classes
How they all came together
What are their current initiatives
Laura Phelps Womens Only Pro/Am sponsorship
Reaching out to meet directors
Future initiatives
Kolb Scholarship
Featured Guest/People Mentioned:
The Main Event Project @themaineventproject
Amber Hansen @amberr.alice
Leach Reichman @leahreichman
Allison Hind @allisonhind.pl
Tara Duncan @liftlikemommy
Laura Phelps Stackhouse @queenbeepower
Charlie Binkley @charliebink1ey
Jimmy Kolb @kolbstrong
Kate Kolb @thekatekolb
Kolb Strong Scholarship @kolbstrongscholarship
Lifting Large @liftinglargedotcom
LISTEN HERE on all major podcasts!
If you enjoy the show, please take a few minutes to Rate & Review us on iTunes. Your reviews help the podcast grow!
Want to support the show? Pick some apparel here! Snap a pic and tag us in it, we'll feature you on our social media channels!
This episode is brought to you by Core Strength & Performance. Core's community is built on the journey. We understand that it takes more than a few days to reach your goals of building stronger relationships, stronger bodies, and stronger minds. Visit www.Core256.com for Online or In-Person Training, or find us on Instagram at @CoreSandP @futureisfemalepowerlifting and Facebook @CoreSandP.