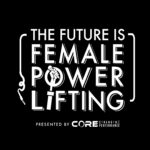 A devoted athlete throughout her young life, Christies life slapped her in the face when she suddenly gained 30lbs over the summer at just 15 years old. This dramatic and unusual weight gain led her to discover she had Hashimotos disease, an autoimmune illness that plagues the body with numerous symptoms such as fatigue, aches in muscles & joints, and unexplained weight gain. Through it all, Christie found love in powerlifting, climbing her way to an International Elite total and chasing world records.
Christie's smile is big, her personality infectious, but she keeps her circle of friends small. I would say she is a relatively private person. Today, however, she shares a part of her that she has not shared with many, partly because she feels many live with so much worse.
We hope that Christie's story helps others find their strength to live beyond the disease, as she too explores various ways to live & manage her autoimmune illness.
In this episode, Christie and I discuss traveling around the world and the perspective it gives. Listen as we go over:
Exploring holistic doctors for Hashimotos
Finding a coach who becomes more than a coach
Meeting her husband while training
COVID training and how that blew her strength up
Whiskey & ammonia is all you need
Competing 7 whiskey shots deep
Don't count reps for Christie
Featured Guest/People Mentioned:
Christie Hoffmeyer Chappell @n0_ston3_unturn3d

Alex Chappell

Chris Lentini @lentiniliftsheavy
USPA Alabama @uspaalabama
Quayla Hardwick @quayy.leshae
LISTEN HERE on all major podcasts!
If you enjoy the show, please take a few minutes to Rate & Review us on iTunes. Your reviews help the podcast grow!
Want to support the show? Pick some apparel here! Snap a pic and tag us in it, we'll feature you on our social media channels!
This episode is brought to you by Core Strength & Performance. Core's community is built on the journey. We understand that it takes more than a few days to reach your goals of building stronger relationships, stronger bodies, and stronger minds. Visit www.Core256.com for Online or In-Person Training, or find us on Instagram at @CoreSandP @futureisfemalepowerlifting and Facebook @CoreSandP.