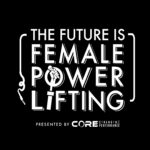 As a powerlifting coach, International Elite powerlifter, WRPF ref, and small business owner, Riley Presnell is blazing the way to help grow the powerlifting community. With a background in psychology & decades of competitive sports, combining the physical and mental aspects of strength seemed to fit perfectly for her.
Riley's purpose, as she shares in this episode, is to "Help people realize that their strength starts in their brain and you can't actually express it physically unless you are able to hone into that mentally'. Today, Riley shares insight on how you can tap into your mental strength to reach your full potential, as well as answer questions that were submitted on Instagram.
In this episode, Riley and I discuss her years in sand vollyball that lead her to eventually compete in powerlifting. Listen as we go over:
Cutting for the Showdown and how that went
Playing it safe or sending it
Overcoming negative thoughts by changing the perspective
Becoming a powerlifting coach
The importance of self belief
Questions we covered:
How did you become a coach and what process did you take to grow your community? @hollister_lifts
Mindset for moving on after a bad meet? @Kelyf.13
At what point in your powerlifting journey did you see a huge leap in strength gains and what do you attribute it to? @Hannah3405 
What is one of the most helpful things to improve sumo deadlifts? @hollister_lifts
What would you implement for a new lifter that has issues flaring their elbows out on the press motion of the bench? @Emily.be.strong
What is your purpose? @Britt.ironsavages.fit
Featured Guest/People Mentioned:
Riley Presnell @rileypresnell

Trevor Jafee @jaffestrength

Charlie Binkley @charliebink1ey
Jenn Rotsinger @jrotsinger
The Showdown Meet @the_showdown_meet
LISTEN HERE on all major podcasts!
If you enjoy the show, please take a few minutes to Rate & Review us on iTunes. Your reviews help the podcast grow!
Want to support the show? Pick some apparel here! Snap a pic and tag us in it, we'll feature you on our social media channels!
This episode is brought to you by Core Strength & Performance. Core's community is built on the journey. We understand that it takes more than a few days to reach your goals of building stronger relationships, stronger bodies, and stronger minds. Visit www.Core256.com for Online or In-Person Training, or find us on Instagram at @CoreSandP @futureisfemalepowerlifting and Facebook @CoreSandP.