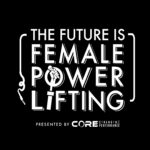 "I spent the first couple years in powerlifting trying to fit into the 165 weight class". "…the moment I let myself do that (get bigger), my lifts got stronger. Significantly stronger, like 500lbs in 3 years."
Often overlooked, but largely important is letting go of a body ideal that sometimes, is not ideal for our body. As many of us have struggled with, confidence was an area that took Kiersten Scurlock many years to develop. As a former competitive cheerleader, Kiersten struggled to perform come competition time. Never seeing the true potential in herself as coaches saw in her, she admittingly held herself back for most of her cheer career until one day, she decided it was enough.
This is Kiersten's journey towards discovering who that person was, who she was going to be, and unlocking her strength within. Her story is one that resonates with many of us as we have all traveled down a path unconfidently at some point. Not allowing to be held back any longer, Kiersten became really strong both physically and mentally, building herself to have the All-Time #2 Wrap Squat record at an astounding 666lbs and ranking #2 in the world in her raw weight class.
In this episode, Kiersten and I talk her struggles early in her cheer career. Listen as we go over:
How she built confidence
Taking 2nd at Cheer Nationals
Utilizing the Cube Method as her first program
Why she struggled with minimal strength progress for 3 years
Letting herself compete in a heavier weight class
Featured Guest/People Mentioned:
LISTEN HERE on all major podcasts!
If you enjoy the show, please take a few minutes to Rate & Review us on iTunes. Your reviews help the podcast grow!
Want to support the show? Pick some apparel here! Snap a pic and tag us in it, we'll feature you on our social media channels!
This episode is brought to you by Core Strength & Performance. Core's community is built on the journey. We understand that it takes more than a few days to reach your goals of building stronger relationships, stronger bodies, and stronger minds. Visit www.Core256.com for Online or In-Person Training, or find us on Instagram at @CoreSandP @futureisfemalepowerlifting and Facebook @CoreSandP.