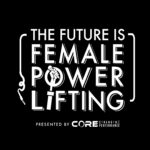 Looking back a few years, Tamara "Dove" Walcott's biggest strength goal was hitting a 495lbs deadlift. Fast forward to The Showdown Meet on September 25th 2021, she pulled an All-Time World Record Deadlift of 636lbs (288.5kg), exceeding the 3-year record previously held by C.C Ingram by 14 lbs.
Doves magnetic positive energy draws you to her, making her record deadlift all the more exciting to watch. This lift also highlights a powerful shift in what we see possible for women in powerlifting. 10 years ago, there were less than a handful of women who pulled 500lbs or more. Today, there are almost 200, 5 of which have pulled 600lbs.
The future of female powerlifting is growing, and we are here to witness its greatness. As Dove so humbly stated in this episode, "This lift wasn't just for me, this is bigger than just myself. That (lift) let everyone else in the room know, dang, you can do it too".
In this episode, Dove and I talk about what started her powerlifting. Listen as we go over:
Using the gym to pick herself back up
Her children, her drive
How she trained differently for the Showdown
What she was actually planning on pulling for her world record deadlift
Listening to her coach, even though it was only 2.5lbs
Featured Guest/People Mentioned:
LISTEN HERE on all major podcasts!
If you enjoy the show, please take a few minutes to Rate & Review us on iTunes. Your reviews help the podcast grow!
Want to support the show? Pick some apparel here! Snap a pic and tag us in it, we'll feature you on our social media channels!
This episode is brought to you by Core Strength & Performance. Core's community is built on the journey. We understand that it takes more than a few days to reach your goals of building stronger relationships, stronger bodies, and stronger minds. Visit www.Core256.com for Online or In-Person Training, or find us on Instagram at @CoreSandP @futureisfemalepowerlifting and Facebook @CoreSandP.