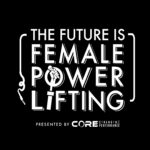 With over 20 meets under her belt competing in both raw and multiply, Amber is a force to be reckoned with. With over 20 meets under her belt competing in both raw and multiply, Amber is a force to be reckoned with. Recently taking 1st in the 198 weight class at 2021 Bucked Up Showdown Meet, Amber pulled off some personal raw bests with a 479.5 squat, 330.7 bench, 529 deadlift and a 1339.3 total, bringing her raw DOTS score to 543.75. She ranks among some of the top legends in women's powerlifting, coming in at #3 just under Big Becca Swanson and Laura Phelps-Stackhouse for the 198 multiply class.
Her powerlifting accolades are also recognized amongst her peers where she was named Air Force's 2020 Female Athlete of the year which is a major accomplishment. As you'll soon hear, she is a woman of many amazements, beginning her powerlifting journey from Roller Derby. It's not surprising to think, but Amber is a badass.
In this episode, Amber and I talk about her training for the Showdown. Listen as we go over:
Training while being active Air Force
Competing at the Showdown & WPO
Starting powerlifting because of Roller Derby
How to get started in geared lifting
Juggling social life and work with training at an elite level
Featured Guest/People Mentioned:
Amber Hansen @amber.alice
Jimmy Kolb @kolbstrong
World Powerlifiting Organiztion WPO @wolrdpowerliftingorganization
The Showdown Meet @the_showdown_meet
Anthony Oliveira @anthonycw13
LISTEN HERE on all major podcasts!
If you enjoy the show, please take a few minutes to Rate & Review us on iTunes. Your reviews help the podcast grow!
Want to support the show? Pick some apparel here! Snap a pic and tag us in it, we'll feature you on our social media channels!
This episode is brought to you by Core Strength & Performance. Core's community is built on the journey. We understand that it takes more than a few days to reach your goals of building stronger relationships, stronger bodies, and stronger minds. Visit www.Core256.com for Online or In-Person Training, or find us on Instagram at @CoreSandP @futureisfemalepowerlifting and Facebook @CoreSandP.