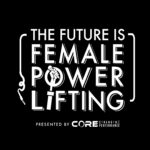 Looking back at Barbara's first meet, you'd think she probably would have quit right then. Most people would. Instead, she found the tenacity in sticking with it, which ultimately led her to be the #7 World Ranked Womens 165lbs. Her development both physically and mentally has been astounding.
Today Barabara and I relive her journey through powerlifting and how she has grown so much as a lifter since 2013. Listen as we go over:
The first meet we fear and how things changed after
Her training now versus when she started
Her advice on comparison & goals
Training around major injuries
You can find the products I talk about here:
Barbara Lee @barbellbarbie
Steve Goggins @thestevegoggins
YouTube video on this podcast: https://www.youtube.com/c/CoreStrengthPerformance
Looking for Nutrition or Powerlifting training? Visit: www.core256.com/online
Want to get these tips and more exclusive content right to your email? Your our weekly newsletter here: https://core256.com/newsletter-opt-in/
LISTEN HERE on all major podcasts!
Want to support the show? Pick some apparel here! Snap a pic and tag us in it, we'll feature you on our social media channels!
This episode is brought to you by Core Strength & Performance. Core's community is built on the journey. We understand that it takes more than a few days to reach your goals of building stronger relationships, stronger bodies, and stronger minds. Visit www.Core256.com for Online or In-Person Training, or find us on Instagram at @CoreSandP @futureisfemalepowerlifting and Facebook @CoreSandP.