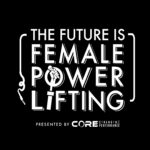 Many of us have doubted ourselves before stepping on the platform, and it's always nice to hear some of the strongest lifters in the world also do the same.
Today, Liz Ribaudo candidly opens up about her struggles not only with feelings of self-doubt but the stress that results in a lifting session that just doesn't go our way. Her self awareness, honesty and the need to constantly improve allowed her to hit the coveted 504 dots and become one of the strongest 148's there is.
Listen as we go over:
Her nerve-wracking experience at one of the biggest meets, The Showdown
Her gym, Fortis Fitness Studio
Transitioning from teaching to coaching
Skin cancer
Why she doesn't cut weight anymore
Training with her husband, Nate
You can find the products I talk about here:
Lix Ribaudo @lizribaudo_fortis
Fortis Fitness Studio @fortisfitnessstudio
Nate Ribaudo @nateribaudo_fortis
Fortis Powerlifting @fortispowerlifting
Gary Brewer @gbrewerpower
YouTube video on this podcast: https://www.youtube.com/c/CoreStrengthPerformance
Looking for Nutrition or Powerlifting training? Visit: www.core256.com/online
Want to get these tips and more exclusive content right to your email? Your our weekly newsletter here: https://core256.com/newsletter-opt-in/
LISTEN HERE on all major podcasts!
Want to support the show? Pick some apparel here! Snap a pic and tag us in it, we'll feature you on our social media channels!
This episode is brought to you by Core Strength & Performance. Core's community is built on the journey. We understand that it takes more than a few days to reach your goals of building stronger relationships, stronger bodies, and stronger minds. Visit www.Core256.com for Online or In-Person Training, or find us on Instagram at @CoreSandP @futureisfemalepowerlifting and Facebook @CoreSandP.