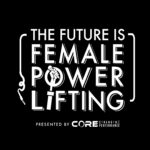 Thinking about powerlifting but not sure what the first step is? In this episode, we cover the top things to consider before trying powerlifting.
Listen as we go over:
What to consider when selecting a meet
How much time should you train before competing
What program should you be following
How and when to find a coach
How often and how hard should you be training
BONUS: What accessories do you NEED to powerlift vs what you may WANT to powerlift
Featured Guest/People/Info Mentioned:
USPA Federation @uspapower
FREE PDF Download (Eating Like An Athlete, Meet Attempts, Meet Day Fueling, & More!): https://core256.com/free-pdf-download/
LISTEN HERE on all major podcasts!
If you enjoy the show, please take a few minutes to Rate & Review us on iTunes. Your reviews help the podcast grow!
Want to support the show? Pick some apparel here! Snap a pic and tag us in it, and we'll feature you on our social media channels!
This episode is brought to you by Core Strength & Performance. Core's community is built on the journey. We understand that it takes more than a few days to reach your goals of building stronger relationships, stronger bodies, and stronger minds. Visit www.Core256.com for Online or In-Person Training, or find us on Instagram at @CoreSandP @futureisfemalepowerlifting and Facebook @CoreSandP.