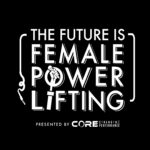 "I've never told anyone this, but right before I hit the platform I…". This is just one of the many gems rising powerlifting and bodybuilding star Hunter Henderson shares with us in this fun, off-the-cuff interview about what she does to keep striving for the top.
Hunter is ranked #2 in the world amongst men and women with an astounding 1548.7lbs (702.5kg) total and a 687.63 DOTS score, trailing behind #1 Marianna Gasparyan, but right above heavy hitters CC Ingram and Stefi Cohen. She is taking women's powerlifting by storm with only 5 meets under her belt and 3 years competing.
Though only in her mid-twenties, you can tell Hunter is an old soul who is wise beyond her years. Watching her train, her lifting also speaks volumes about her focus and poise. In this episode, Hunter expresses herself with confidence and conviction of her capabilities, yet is humble and grateful for each time she is under the bar. She is hungry to see what she is capable of and as she so eloquently states, puts her head down and does the work.
In this episode, Hunter and I speak about her transition to bodybuilding and what drew her there. Listen as we go over:
Balancing working in the medical field while training
Books we love that we both shared with eachother
What happened on her first powerlifting meet
Realizing she was not working hard enough
Mastering staying in the zone, no matter what
What she does right before she hits the platform
Featured Guest/People Mentioned:
Hunter Henderson @huntermhenderson
Ryan Sylva @sylva_strong
Matt Jansen @mattjansen8
LISTEN HERE on all major podcasts!
If you enjoy the show, please take a few minutes to Rate & Review us on iTunes. Your reviews help the podcast grow!
Want to support the show? Pick some apparel here! Snap a pic and tag us in it, we'll feature you on our social media channels!
This episode is brought to you by Core Strength & Performance. Core's community is built on the journey. We understand that it takes more than a few days to reach your goals of building stronger relationships, stronger bodies, and stronger minds. Visit www.Core256.com for Online or In-Person Training, or find us on Instagram at @CoreSandP @futureisfemalepowerlifting and Facebook @CoreSandP.