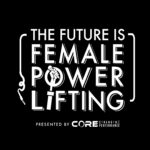 Banging & clanging at Austin Texas Liberation Barbell is where Angel Flores felt most at home. That was not always the case stepping out of the gym- until five fabulous people came marching through the doors and lit her up like a whiff of ammonia.
Season six of the hit reality television show Queer Eye featured trans weightlifting coach and powerlifter Angel Flores. The show highlights her early journey through the physical and emotional transition as she maneuvers through the intricacies of discovering "who Angel is".
I could probably speak for everyone who watched the show that the episode was emotional, heartwarming, and truly inspiring.
In this episode, Angel and I talk about her journey as an athlete and answer questions posed on Instagram. Listen as we go over:
Behind the scenes of shooting Queer Eye
What she loved most about being on the show
Her journey in football, weightlifting and subsequently powerlifting
Training Fab Five Host JVN
Eligibility & criteria to compete in weightlifting
Questions she answered:

What was the first step you took in learning to love/accept yourself more and feel comfortable in your skin? @fittwithashley
What gave you the courage to start training? I'm still terrified! @dorothy_delonpre
What advice would you give to tore trans kids about facing adversity? @d_mol12
What makes you smile on the daily? @d_mol12
What is the day and the life of transitioning? @got2b-jordana
What is the best way cishet people can support and prioritize inclusivity for LGBTQ+ lifters? @syd.ney.ann
Featured Guest/People/Info Mentioned:
Angel "Arkangel" Flores @arkangeljoy
Vinny Vela @berserker_bastard
Laurie @lauriebjj
Julia Hamilton @ladybeast_juju
Liberation Barbell Gym @liberationbarbellclub
Queer Eye @queereye
Jonathan Van Ness @jvn
LISTEN HERE on all major podcasts!
If you enjoy the show, please take a few minutes to Rate & Review us on iTunes. Your reviews help the podcast grow!
Want to support the show? Pick some apparel here! Snap a pic and tag us in it, we'll feature you on our social media channels!
This episode is brought to you by Core Strength & Performance. Core's community is built on the journey. We understand that it takes more than a few days to reach your goals of building stronger relationships, stronger bodies, and stronger minds. Visit www.Core256.com for Online or In-Person Training, or find us on Instagram at @CoreSandP @futureisfemalepowerlifting and Facebook @CoreSandP.