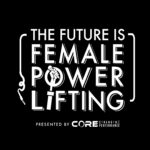 Coach Christina Myers and I go over the divisions of competing in Powerlifting as it relates to Raw & Equipped.
Listen as we go over:
4:00, What is Raw competing? What can you wear and not wear
25:30, What is Equipped powerlifting
34:00, Training Equipped vs raw (Monolifts, ER racks, walk-outs)
48:10, Why train & compete with different bars
56:50, Federations: why to choose one over another, qualifying for national/world competitions in Raw or Equipped, drug tested vs non-tested
Featured Guest/People Mentioned:
If you enjoy the show, please take a few minutes to Rate & Review us on iTunes. Your reviews help the podcast grow!
Want to support the show? Pick some apparel here! Snap a pic and tag us in it, we'll feature you on our social media channels!
This episode is brought to you by Core Strength & Performance. Core's community is built on the journey. We understand that it takes more than a few days to reach your goals of building stronger relationships, stronger bodies, and stronger minds. Visit www.Core256.com for Online or In-Person Training, or find us on Instagram at @CoreSandP @futureisfemalepowerlifting and Facebook @CoreSandP.
Thank you for tuning in and subscribing. I appreciate every one of you that takes the time to listen.