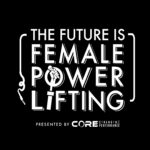 Filipino American Women's Strength Advocate, Author, Speaker, and Powerlifter, Laarni Mulvey, is the Founder of Strong and Mighty Company. Finding her own inner strength allowed her to channel her voice focusing on encouraging women to harness their own unique power and strength. Using her voice here today, I have the pleasure of sharing her powerful story.
Laarni honored me by asking me to be a part of her first book, Standing In Strength: Inspirational Stories of Power Unleashed. The seven women who collaborated in this book share the lessons they have learned from sport and where they found their strength and built their power.
We share our inner growth, the physical and mental challenges faced in our sport, and the lessons of strength and capability we've learned along the way. Although our experiences of strength through sport are different, we have a similarity of falling down, finding a path for growth and self-understanding.
In this episode, Laarni shares her stories of struggling to find her own path. Listen as we go over:
Moving from the Philipines
Life as a young immigrant as a girl who lived & looked different than those around her
Her yearning to fulfill her athletic capability
Discovering her why and feeling the thrill of living her path
Pulling the trigger to compete in powerlifting
Life changing career move that catapulted where she is now
Featured Guest/People Mentioned:
📕 Standing in Strength ! Order here or link in bio: https://www.amazon.com/Standing-Strength-Inspirational-Stories-Unleashed/dp/1913973166/ref=nodl_
LISTEN HERE on all major podcasts!
If you enjoy the show, please take a few minutes to Rate & Review us on iTunes. Your reviews help the podcast grow!
Want to support the show? Pick some apparel here! Snap a pic and tag us in it, we'll feature you on our social media channels!
This episode is brought to you by Core Strength & Performance. Core's community is built on the journey. We understand that it takes more than a few days to reach your goals of building stronger relationships, stronger bodies, and stronger minds. Visit www.Core256.com for Online or In-Person Training, or find us on Instagram at @CoreSandP @futureisfemalepowerlifting and Facebook @CoreSandP.